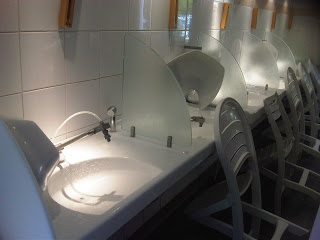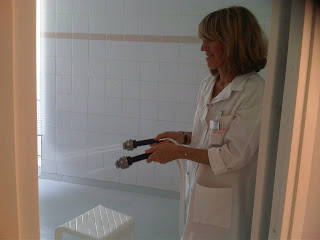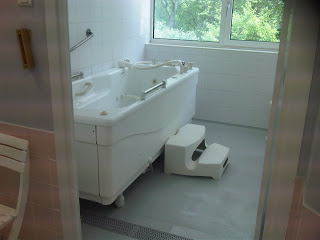 Well, in the nick of time before the ash cloud descended again, I got back from France on Sunday evening. I spent three days on a press trip with five other journos visiting the Avene Hydrotherapy Centre. The first night was spent in the coldest room I've ever slept (or not slept) in at a beautiful hotel with a pond seemingly beseiged by a million croaking frogs. Interesting dawn chorus – that actually didn't wait til even dawn to start singing – but stunning nonetheless; a lake with mist rising in the backdrop and an exquisite pool. It was far too chilly to swim though with unseasonally cold weather in the region. In the morning we headed off on the 2 hour drive to Avene. It didn't help that in my head I'd been calling it a 'spa' and imagining all the pampering connotations that come with that word, but still, it was a little bit of a surprise (ok, ok, a shock) to discover that Avene is very much more medical than indulgent. The buildings (it has a hotel on site – very basic but actually rather lovely and welcoming) look like a more compact version of Tracy Island, but the original communal baths from 1874 are still visible adding a bit of historical interest.
Avene is situated by a thermal spring and its very first centre was built in 1743 where people came to 'take the waters'. In the 19th Century, the water was exported to Chicago to treat victims of the Great Fire in 1871. And, while I'm always a little bit skeptical about 'cures' and special water, I have to say that the Avene water is completely amazing. Amazing in that it is the softest water I've ever come across and also totally addictive…I drank more water over those three days than I would in possibly a fortnight…you end up kind of craving it. Without going into a technical breakdown of what minerals and trace elements are in it, the water has been found to help hugely in the treatment of skin diseases such as eczema, dermatitis and psoriasis which is why people with skin conditions flock there to experience the waters. From the case studies we were shown, it appears to have an astonishing curative impact. But, if like me, you're imagining swimming in beautiful, crystal thermal waters or steeping in hot, bubbling jacuzzis, nothing could be further from the truth!
I'd made a joke about ladies in white coats with jet sprays hosing me down in a cubicle before I left, and that turned out to be a premonition that almost came true as you'll see from the pictures! If you suffer from a skin disease you'll be seen by a doctor (dermatologist) and prescribed the ideal water treatments for your condition. In France, patients are referred by the health system and they also pick up the tab for treatments (but not accommodation) and by some strange EU quirk, you can get referred by the UK NHS starting on a complex route that begins with a form E112. I tried the 'bath' – it is temperature regulated for sensitive skins so wasn't really warm enough for me but it has a massage mechanism that made it rather lovely and this was followed by a cold shower (sorry folks, but I piked out of this one..just couldn't deal with a freezing shower). With all kinds of water therapies available, from scalp chambers that look like they were invented by Caractacus Potts, to perforated mouth guards that spray water over and under the tongue, the entire set up is dedicated to relieving sore and sensitive skin conditions wherever they occur.
It is fascinating…people absolutely flock; a fountain outside the building supplies local residents or passers by with as much free Avene thermal spring water as they like and apparantly in summer, queues form to stock up on the liquid. It is much more accepted in France to use hydrotherapy as a cure for ailments – even other than skin – to us Brits it seems strange. But what isn't is doubt is the immense freedom from horrible, uncomfortably painful and disfiguring skin ailments that Avene gives. While you'd never go there for a mini-break (the French health system is somewhat typically beaurocratic – patients have to go for exactly three weeks in order for it to be paid for, not a day more or a day less), anyone suffering from skin complaints would find it literally transforming.
There is a whole Avene skincare range based entirely on the Avene water; it's a confusing range in some ways because in some products there is perfume – a no-no for sensitive skins, and in others literally only five or six ingredients and a great helping of that is Avene water. I'm going to be trialling their range for extremely sensitive skin on a friend who suffers from eczema so will report back.
We left to spend our last night in Montpellier in a gorgeously luxurious hotel with pool, sun deck etc etc. Despite such sumptuous surroundings I kinda missed Avene and its relaxed atmosphere, and I definitely miss the water.
Transparency Disclosure
All products are sent to me as samples from brands and agencies unless otherwise stated. Affiliate links may be used. Posts are not affiliate driven.