Aurelia is a new brand that's doing really well – it's managed to gather the eyes and ears of most of the beauty press and that's not something easily done with an organic range.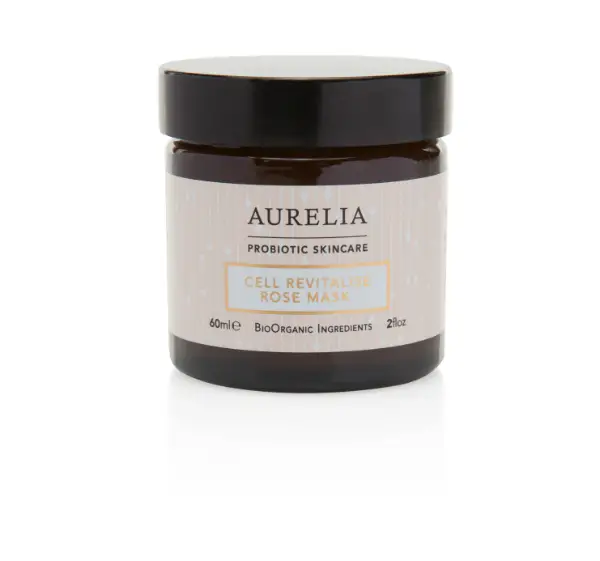 I've already raved about the Aurelia Miracle Cleanser and have used it all up, but recently I've been trying their latest product, the Aurelia Probiotic Skincare Cell Revitalize Rose Mask. I love face masks – I almost don't really care what they do for your skin because they're so good at making you stop what you're doing and just relaaaax. Obviously, if there's a beneficial effect that's the ultimate result, but mostly I think they just sit on your skin, give you a bit of extra hydration and with very few exceptions, you can probably go your whole life without using one to no detriment to your skin whatsoever. They're more a physical symbol of 'me-time' that makes you feel pampered and that you're looking after yourself… so important.
Aurelia Probiotic Skincare Cell Revitalize Rose Mask is £65 – I need to point that out at the get-go – that is a lot of money for a face mask. But, unlike so many, there is a result at the end of it that I can feel (although I am not sure sure I can see). It's hard to describe, but my complexion feels reinforced in some way – the texture is firmer and I can feel it is hydrated. I'm tempted to say that my skin feels like it has a protective coating on it afterwards but that isn't quite right – maybe there isn't a word in the English language for the feeling, so that is as near as I can get.
Ingredient wise, it's got BioOrganic botanicals which include Baobab, rich in Omega 3, 6 & 9 to revitalise the skin, firming Kigelia Africana and Hibiscus to fight oxidative stress, Hawaiian Kukui Oil for gentle hydration and Palmrosa which removes impurities and detoxifies the skin. The texture is thick and unguent, and the scent is delicate rose.
Is it £65 worth, though? Hmm.. I'm torn.. it's not for me to judge anyone's budget and the only way I can say it is that if I was flush, I so would, if I wasn't, I'd pass.  You can pre-order at Aurelia Skincare  but otherwise, the mask launches at the end of the month.
Transparency Disclosure
All products are sent to me as samples from brands and agencies unless otherwise stated. Affiliate links may be used. Posts are not affiliate driven.