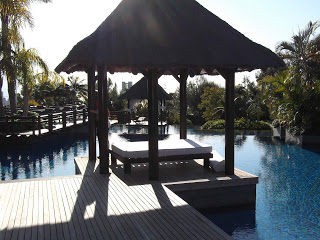 I've been checking the weather forecast for Spain for a couple of weeks, watching the temperature predictions sink lower and lower as my weekend away approached. By the time we got on board our Monarch flight from Gatwick, the captain was gleefully announcing that it was colder in Alicante than in the UK. Yay. 
So, far from the sun-drenched weekend I'd been banking on, we got the coldest weather the region has seen for 27 years.  So, this is a very different review to the one I was planning. If you live in London like I do, the very fact that in four hours flat you can be in Spain is kind of miraculous and the perfect excuse for a sneaky weekend off.
We left for Asia Gardens Hotel and Spa on Friday afternoon and a few hours later were eating delicious food in a gorgeous restaurant and sinking into a sumptuous bed for a long sleep. As you might expect from the name, Asia Gardens is Balinese themed and its main asset is the beautiful gardens, potted with hidden pools and waterfalls. It's blissfully quiet, so, in keeping with a peaceful and tranquil environment, you can hear nothing but gently trickling water – in fact, you are surrounded by water; the gardens are punctuated by bridges and walkways and they're huge, so you can have a good walk around never far from a water feature or one of the seven pools.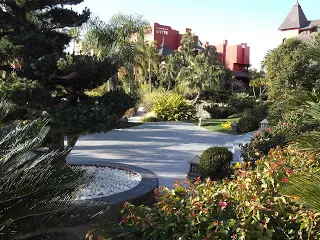 Much as I would like to find a gripe or two, other than the fact that the hotel was obviously struggling to keep the place warm (we had lunch in our coats because the restaurant just didn't have the facilities to heat it up being far more used to having to cool things down), there was nothing whatsoever to find fault with. The staff were attentive, kind and friendly (tweeting us a lovely welcome); the bedrooms luxurious and immaculate (again, Thai inspired décor so the bathroom is screened and a bit of a high point was pulling back the Japanese screens to watch TV while I soaked in a hot, bubbly bath!) and nothing was a problem. Seeing a place out of sorts, which it was, due to the cold, probably tells more about the efficiency than anything else; these were extreme circumstances and while our bedrooms were perfectly cosy, the 'all-year-round-heated-pool' was somewhat icy. Even the hot tub struggled.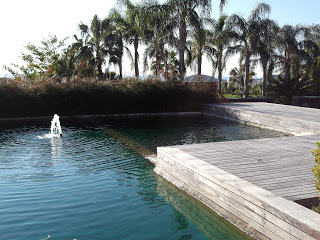 You cannot escape the fact that Asia Gardens overlooks Benidorm. It is set back into the hills and is about ten minutes away in a taxi from the town. It's easy to make fun of Benidorm, but it is what it is. We took a trip into Benidorm old town and after my friend bought a stunning pair of leather boots and we stocked up on sweaters in Zara, we ordered a cappuccino in a beachside restaurant. It was basically coffee with squirty cream liberally sprayed on top. Enough said.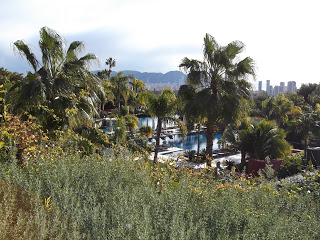 Asia Gardens is really a paradise; for those needing a total break in ultimate comfort, it's the perfect place. For those who can't settle into being pampered and need a lot to do, it's probably not right although there is a gym and nearby golf courses. There are activities (we took part in a lovely Thai ceremony where you light a candle and float it in the water) but they centre on relaxation rather than 'activity'. We spent a lot of time lounging about – they make that temptingly easy – even grabbing a heap of towels and wrapping ourselves cosily to lie on the loungers by the pool and get a little bit of wintery sun on our faces.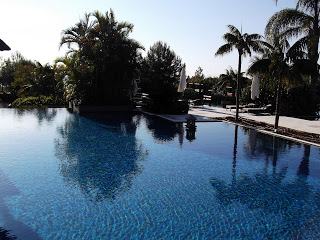 It's not a cheap break by any means, but when you've just had enough and need a complete switch-off, it's a pampering weekend that restores to the roots of the soul. The food is exceptional; we ate modern European and the following evening, Thai, and I just cannot fault it. We were delayed by two hours on the way home but on the day that the UK was deluged by snow, it's kind of a miracle we got home at all: Monarch gave us vouchers for EU6 each to keep us in coffees while we waited out the delay which was unexpected and softened the blow somewhat.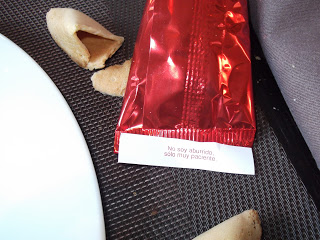 Fortune cookies at breakfast!
I'm doing a separate post on the Thai Massage I had, but for now, the details:
Monarch, the scheduled leisure airline, operates year round flights to Alicante from Birmingham, London Gatwick, London Luton and Manchester airports with fares, including taxes, starting from £38.99 one way (£69.50 return). www.monarch.co.uk
Transparency Disclosure
All products are sent to me as samples from brands and agencies unless otherwise stated. Affiliate links may be used. Posts are not affiliate driven.