to another controversy. Here's a post from a site that I spotted yesterday (late to the party, because it was posted ages ago back in August)…but, still..
The beautiful elephant in the room…
Wednesday, August 18th, 2010
OK, so this make up range is much loved by notoriously difficult bloggers. But I feel like I'm taking crazy pills – does no-one else find Edward Bess a little freaky? Looking at the image he chose for his homepage (see below, pictured with his 3 sisters) he looks rather like an extra from the Twilight series, posing with his next lunch.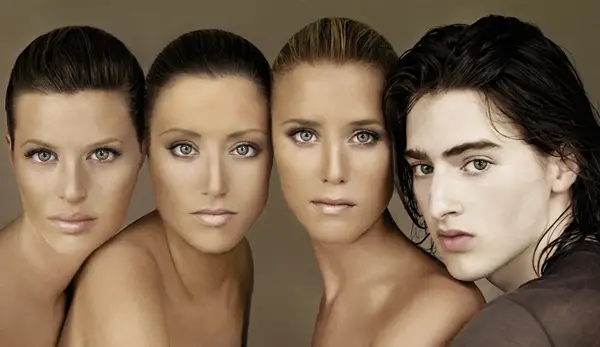 I have been inspired to write this by the insane amount of sycophantic twaddle twiddling its way round the super highways. All you read about in reviews of Edward's range is his aMAzing bone structure, charming manner, tumbling chestnut locks and background in modelling…not one word qualifying why.
Why
should we buy a range formulated by a boy, where are his beauty credentials other than being 'pretty' himself?
Where are the years of experience in the industry honing skills and understanding the needs of the women using his product? There are so many brands out there so much more qualified to receive such gushing praise. Bess' range, while good quality with easy to wear colours, is nothing unique. This idea has already been executed beautifully by Laura Mercier, Bobbi Brown and Trish McAvoy.
Excuse me??? Sycophantic twaddle? That would be me then…because I adore this brand and haven't been backward in coming forward about it – I've been chasing it down for 2 years to try and get it in the UK and finally, finally Zu at Zuneta.co.uk took the bull by the horns and shook Edward B til he said yes. Sorry, honey, but he is charming, does have hair to envy, and does have amazing bone structure. It's not fair, I know, but it is true. Why should we buy a range formulated by a boy? Well, maybe we should ask John Frieda, Daniel Sandler or Peter Phillips? They might know. And as for years of experience? Imagine not embracing entrepreneurship in the beauty world, because if we didn't we'd be all stuck wearing the same make up churned out by the big guns for ever. Much as I like Laura, Bobbi and Trish, it's not all I want to wear. I want to look to the new and support smaller brands that have entered the very competitive and scary area of beauty. Edward Bess is a range that has managed to combine style with substance – yes, it is expensive, but that's the idea of luxury brands – and the products do deliver. And, as for freaky? Freaky beauty is what has been selling magazines, brands and movies for just about ever and I'll cite the new campaign for Givenchy featuring Albino model, Stephen Thompson, as a perfect example of that. If the boundaries of beauty can't be pushed and attitudes to conventional beauty challenged, then it's a sad, closed and spiteful little world, no?
Transparency Disclosure
All products are sent to me as samples from brands and agencies unless otherwise stated. Affiliate links may be used. Posts are not affiliate driven.