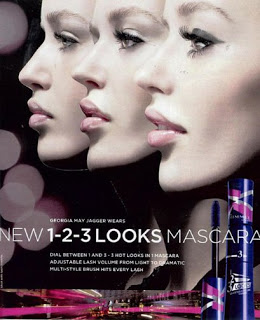 Rimmel has been given a roasting by the ASA for using lash inserts on Georgia May Jagger in their ads for Rimmel (owned by Coty) Mascara. Both magazine and TV ads show Georgia with lashes getting progressively longer. Ultimately the ASA felt that the ads were misleading, and although Rimmel had run a very tiny disclaimer saying they were 'shot with inserts', the ASA felt because the ad showed GMJ in three separate shots with lashes getting progressively bigger and longer (thanks to longer inserts), it didn't reflect the mascara correctly. The ads can't appear again in their current form, although this may mean that something as simple as re-sizing the disclaimer to make it acceptable.
So, two things. It's crazy in the first instance that mascara brands can even think of using lash inserts on models to pretend that's how your lashes will look after using the mascara. It's simply misleading from the very beginning and deliberately so. It's absolutely not fair to 'pretend' to potential consumers they might look better than they actually will and the beauty industry is one of the worst offenders for skewing the truth when it comes to advertising. In the days before lash inserts were available, models would spend a very dull few hours having their lashes dyed, mascara'd and then separated individually with a pin by a make up artist before the shots were taken. But, at least if you were prepared to get your pin cushion out you stood a tiny chance of replicating the look. With lash insert ads, unless you've spotted the small print, it's just not going to happen for you.
Secondly thing: it just takes one person to complain – and apparantly in this instance it was one person that complained about the GMJ ad – for the ASA to act. And so I wonder whether it's now the norm for people to assume that lash inserts are used (actually part of Rimmel's defence) in mascara ads (and extentions in hair ads etc) so now that it is a commonplace occurence, nobody complains any more. Since when did we not mind that what we are being sold on TV and in print beauty ads isn't actually what we are getting?
Transparency Disclosure
All products are sent to me as samples from brands and agencies unless otherwise stated. Affiliate links may be used. Posts are not affiliate driven.