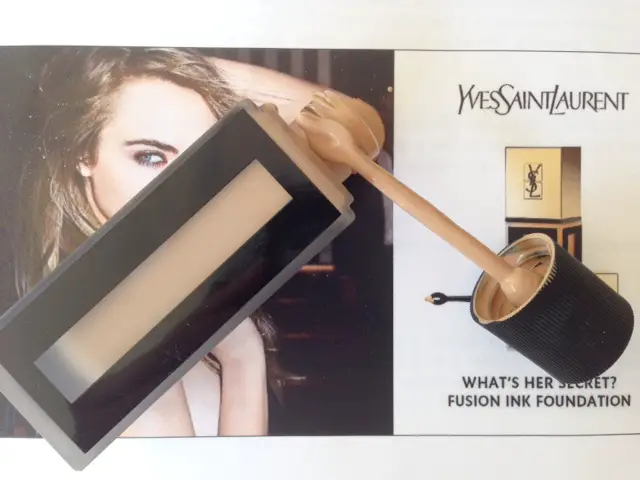 First up, there is no getting around the fact that YSL Fusion Foundation is an exceptional foundation. The texture has an underlying serum feel to it and even though I genuinely do not like matte foundations, I think this is one I could wear because it is not in the least drying. There's a big push to emphasise its technology – namely that it has some inspiration from Aerogel, a substance used to capture star dust particles in the field of space science. I was on Radio 4 last week discussing whether wait-lists really exist (more on that later) and they actually had a space scientist who confirmed that there is some connection there. So, what YSL Fusion claims is to absorb sebum, stay put, give great coverage and hydrate.. so far, so good, because I can say yes, it ticks all those boxes. I'd go even further to say that the coverage is immaculate and I'd recommend it in a heartbeat for anyone who has skin that can run to oily, or, because of its hydration ability, just about anyone else who like a velvety finish.
But then we come to the wait list which you might have seen in the media. At the last count, it was at 19K. However, wait-lists are often just absolute hype. I've asked to see wait-lists – or at least some evidence that a wait-list really exists (not with YSL) and am always told that it is data-protected. It probably is. Which means that it is entirely unprovable in any way, shape or form. And, almost every single time, even with a product with a clearly made up wait-list (some brands are notorious for doing this) of thousands and thousands, the product is easily available to buy on launch day. It's just not credible – the stats don't add up. Someone who has directly done the research on the YSL wait-list is journalist Claire Coleman (whose Dad handily works for NASA). According to Claire transpires that the now 19K strong YSL wait-list is actually a list of women who have signed up to trial the YSL Fusion Foundation, and not to necessarily buy it. Which, to my mind, is a different thing entirely. That's a free trial list, not a wait-list. I don't dispute the figures, but I dispute the definition. Whichever way you look at it, the figures are entirely believable in this case – who wouldn't want to try an amazing, new foundation? My personal view is that it's  had a misleading spin put on it.
On the inside track, everyone is questioning that list- PRs, journalists and bloggers, and it never needed to be that way. When even Radio 4 asks whether it really exists (and it's not a station known for its interest in beauty!), you know that it's a wider question throughout the beauty industry.
This is a fabulous foundation that will sell and sell – the 'wait-list' never needed to happen. A 'free trial' list is more valid and infinitely more believable. At a time when women are completely questioning celebrity endorsements and spurious claims, brands need to step up. We're asking for more honestly and more realism in beauty – that view is everywhere, particularly in the older age category. Smart brands listen.
YSL Fusion Foundation launches on 10th August for £30.50 – it's a high recommend from me based on the product alone. The rest? Meh.
Transparency Disclosure
All products are sent to me as samples from brands and agencies unless otherwise stated. Affiliate links may be used. Posts are not affiliate driven.