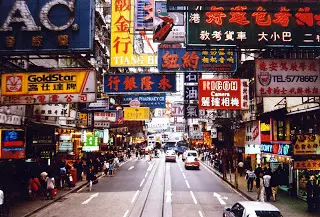 Feeling a little guilty that this post is being picked up by Google search and people are landing hoping for a Hong Kong guide. So, instead of it just being its original intention – an alert that I was heading there and asking for advice, now that I've actually been, I can change this post into an actual mini-guide to Hong Kong!
* First, I would say that a week in Hong Kong itself is a little too long if you like to sight-see. Apart from shops and markets, there are very few touristy things to do, but here's my mini-guide:
– Take the Star Ferry to or from Kowloon; it's a wonderful ride across the bay with stunning, stunning views. There are plenty of guidebooks to tell you the top things to do in Hong Kong.. we loved the Funicular to the Peak..although it was something of a shock to find another shopping centre and a Starbucks at the top. I'd sort of expected a temple or something!
– Go to Macau for the day (or overnight). It's a mind-bending experience in that it is exactly like Las Vegas.. bigger, probably. There are free buses that meet you from the Hydrofoil and take you straight to the casinos, which are obviously full of slot machines, but also places to eat and shops. We headed for Caesars, but if you haven't been to Las Vegas, then you should probably head for the Venetian, gondolas and faux sky and all. Do go into old Macau; formerly owned by the Portugese, for authentic and historical Portugese streets, Portugese food (custard tarts recommended) and the very experience of going from Las Vegas to Portugal in a taxi ride. When you go to Macau you will have to fill in the immigration slips that they provide on the boat – take them, and your passport, with you.
– Basically, Hong Kong is shops. I have no idea how the economy stays straight because you literally cannot walk down any street without encountering a shop of some sort. And, it is expensive, too. The vast majority of stores in any mall are high end with prices to match. Don't be scared to go upstairs on side-streets where you will find warrens of tiny shops, but even they aren't exactly bargains. We did find one shop in a basement selling premium brand clothes that obviously came directly from the warehouse – it was cheap (J Crew, Abercrombie etc) but the choice was poor. You also have to bear in mind that the clothes tend to be smaller than in Europe – so you'd struggle for a t-shirt for a 6ft man, for example, even in GAP.
– Museum wise.. the usual, a Science Museum and an Art Museum.. but we didn't go. 
– Atmosphere-wise, Hong Kong is all hussle and bustle; it is densely populated and people are constantly on the move. The buildings are high; super-high, so what you see on the ground, in streets for example, is just a tiny fraction of what goes on above. 
– The Tin Hau Temple is definitely worth a look; it's full of incense and atmosphere but is tiny. 
– Generally, we found everyone to be exceptionally friendly; service is top notch but Brits can sometimes shy away from too much service, so be prepared to be very fussed over in higher end shops.
– Designer fakes are something that Hong Kong is well known for, but the reality is that there have been huge crackdowns on this activity, so what you can find in the markets is very low quality and often without any logo. You will be approached to see if you want to go and look at fakes in a side-street..it is safe to do this, although the ones we saw were again, poor quality. You should only express interest in AAA bags (high quality), but again, these really weren't very good. Personally, I'm not one for fakes, they're horrible for the industry in general, but I know that a lot of people are interested, so that's the bottom line. They say that mainland China is the place to go for these, and it is entirely possible to do it from Hong Kong although you will need temporary visas (advice on how to do this is readily available on line).
– Always ask your hotel to write the name of the place you want to go to on a piece of card in Chinese, and most hotels will give you a card with the hotel address in Chinese to take out with you so you can always get 'home' again. Most taxi-drivers don't speak or read English so this is essential. 
– Taxis are the bargain of Hong Kong.. they are incredibly cheap so never worry about flagging one down. 
– We missed the horse racing at Happy Valley (the one week in the year they decided to run it on a Friday and not a Wednesday) but everyone says its a lot of fun if you like a flutter.
– The weather is very hot and humid; your hair will be hellish. Be prepared! But, in shopping centres, the air con is set to freezing so however unlikely it seems, you will probably need a jacket when you venture out.
– We stayed at the Icon Hotel in Kowloon.. I cannot fault it in any way, shape or form. It was perfect and the level of service was outstanding. The food was fabulous (including the buffet; you don't need to be resident to eat there but you will need to book), the views are amazing – utterly faultless. 
– Knutsford Terrace in Kowloon has lots of restaurants that aren't Chinese and is a really lively and fun place to go for food. 
– We saw The House of Dancing Water Show at the City of Dreams (in Macau).. go! It's unreal entertainment, but don't bother trying to follow the thin story line. 
– If you like beauty products, Sasa and Mannings have amazing offerings, and the whole of Hong Kong is mad for BB creams – try Missha as one of the very best ranges. Look out for Tony Moly (Korean) for quirky beauty buys in stores.
– JipiJapa shoes is a brand that isn't available other than in Asia and they have amazing shoes.. gorgeous (but not cheap). 
– The famous Hong Kong tailors are still there in abundance, although not quite the bargains they once were. However, I noticed several offering to make Chanel style jackets for a very reasonable price (£200 ish).. so if you ever hankered after boucle but can't afford the £2,000 a real one would cost, it's a very good option.
– Don't be scared of food courts. They aren't the pizza fest that you'd find in the UK and often have some very good restaurants in them.
Transparency Disclosure
All products are sent to me as samples from brands and agencies unless otherwise stated. Affiliate links may be used. Posts are not affiliate driven.