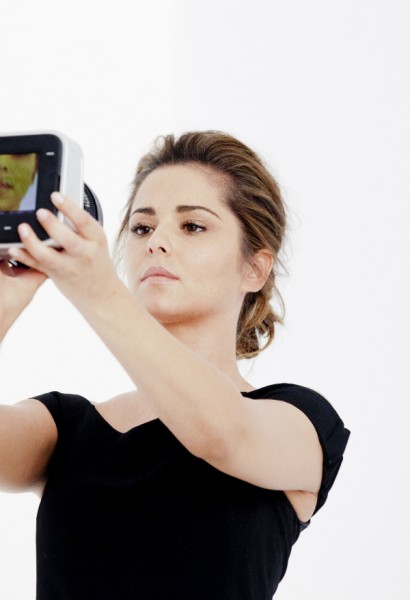 Image Credit: Shot by Charlotte Medlicott for L'Oréal Paris Skin Perfection Skincare
As a beauty writer, there are few things I find more irritating than glossy press packs that feature beauty trickery, such as lash inserts. Beauty journalists end up being complicit in the lie about what a product can do without even realising it. I had one such release lying on my kitchen table when my friend Kathryn from Flutter came round and pointed it out to me. Up until then, I hadn't even noticed that the beautiful lashes were lash inserts.
Beauty has got so influential through tricks of the trade that the message it sends is one of ambitious perfection, which isn't now, nor has it ever been, attainable. Never mind the Size Zero debate, what about Skin Zero? Why is it okay on the one hand for everyone to be up in arms about fashion promoting super skinny models, and yet nobody really thinks twice about beauty promoting skin that isn't actually achievable for 'real' people. Psychologically, it's as damaging to think your face isn't perfect as to think your body isn't.
Catching celebs out without their make-up is a nasty little fad as it implies that somehow they've been caught being less than they should be and reinforces the 'must be flawless' beauty messaging.  But, with L'Oreal featuring Cheryl Cole (L'Oréal Paris spokesmodel and the face of the new L'Oréal Paris' Skin Perfection Skincare) foundation free and with very minimal make-up, and Boots now taking a firm stance against air-brushing and preferring to use women who aren't models as their faces, there is definitely change in the air.
Cheryl's foundation free moment is probably more impactful than we realise. Magazines and celebrity websites quite openly judge women in the public eye in no make-up and often ask their readers to collude in making a judgement too. There's kind of no point in them trying to catch Cheryl with no make-up because we've all pretty much seen how she scrubs up (enviably well, sigh!) but it's only going to take a few more super high-profile women to do this and then its not really news any more and nor will it be anything to judge by. So, my stance on this is that the penny dropping about 'real women' has been massively helped by beauty bloggers and You Tubers – without us flagging to the world the 'real' us, I think the beauty industry would still be back in the 1990s where they tell us what to do and not we tell them what we're doing anyway. I was at a launch recently where 'real women' were presented as something quite incredible – as though dinosaurs had been rediscovered. Hello! We've been here all along and we're glad not to be perfect, thank you!
So here's a round up of what Cheryl is wearing.. she isn't entirely make-up free, but she is very natural and wearing absolutely no foundation (for some of us, me included this is like going out with no knickers on): Skin Perfection Skincare Magic Touch Instant Blur SuperLiner Brow Artist, False Lash Telescopic Mascara and Glam Shine Lip Gloss in Clear Crystal. See, really not much at all. Personally, I'm pleased to see a breakthrough in how women are presented and I'm particularly pleased that its a global brand that's done it. Others will follow and that can't come soon enough.
The products, aimed at women under 35, are HERE.
Transparency Disclosure
All products are sent to me as samples from brands and agencies unless otherwise stated. Affiliate links may be used. Posts are not affiliate driven.