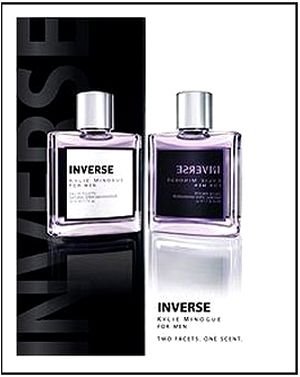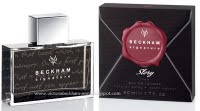 This time, guest boy blogger, Chris, has been testing out the latest celebrity smells in between moutain biking and jumping out of planes (oh, please don't do that…..).
David Beckham Signature Story For Him:
Love him or loathe him (as many Galaxy fans do), David Beckham is an icon. So, on opening his new fragrance, I was hoping for something sporty and seductive with a wild side, to fit in with all the tattoos/fast cars etc. While the packaging is beautiful and well designed, the fragrance, in my opinion, is a bit second rate. It is very fresh; clean and fruity (with notes of basil, violet leaf, pineapple, orange and cedar), but there doesn't seem to be much originality there…I wonder if he really smelt it before putting his name to it? If it's reasonably priced, it might be one to put at the back of the cupboard as an emergency back up for when your favourite runs out, and if you're a fan of Becks, then why not? I'll give him a yellow card, but not quite a red one!
Inverse by Kylie Minogue:
This time the singer has released a fragrance 'for the men in her life'. From what I can make out, Inverse, is a limited edition scent only available for selective distribution in Australia, the UK, Netherlands and Germany – not sure why she is leaving out the US; maybe she doesn't have as many fans (customers!) out there. To be brutally honest, when I first smelled the fragrance I wasn't at all keen; it reminded me of old ladies that use too much talcum powder – hardly a fragrance for a man – but once its been on the skin for a while it does take on a much deeper tone. After wearing it for a week at work and during a spot of extreme mountain biking, its actually grown on me. The ads quote notes of frozen lavender, warm spices, blood mandarin, benzoin, patchouli, skin musk and condensed milk. Condensed milk? I haven't heard of half the ingredients, but condensed milk? Sure it has to be a joke? Inverse comes out in September.
Transparency Disclosure
All products are sent to me as samples from brands and agencies unless otherwise stated. Affiliate links may be used. Posts are not affiliate driven.