I'm probably only ever going to do this trend the once. It is super-fiddly and unless you have a very sharp eye for colour, actually rather difficult. The look of this trend that has apparantly been spotted in LA on celebs is to gently graduate your nail colours to an 'ombre' effect. I think it is achievable if you literally grab five nail polishes from the same brand that are a nano-shade away from each other – kind of as they'd sit in the colour charts. But, muddling through your own nail collection to gather together colours that 'merge' is nigh on impossible – and I've got a LOT of colours! 
Next time I have a mani I might ask for this if there is a really good collection of shades, but it is a faff to do at home. Here's how I got on.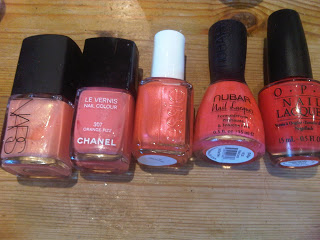 I started with this line up, but decided the Chanel was just too pink based (although if you put it among pinks, it looks too orange based).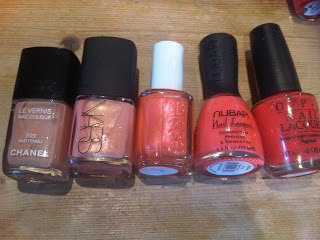 Then, the Nubar shade wasn't quite fitting right so I swapped that for Essie again..which then made the OPI look wrong. So I changed that for the new Bourjois that's out in June, which meant that actually I only used four shades in the end.. keep up, keep up.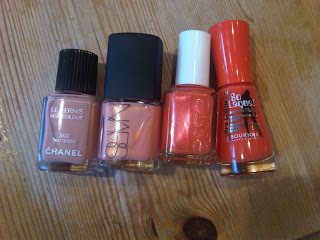 So the line up, starting on the thumb is: Chanel Inettendu, Nars Orgasm, Essie Brazilliant with a coat of Orgasm over the top (it's not yet out and is part of the summer range), Essie Brazilliant (nothing on top) and Bourjois So Laque Ultra Shine Orange Creation (out in June).
What do you think? Could you be bothered?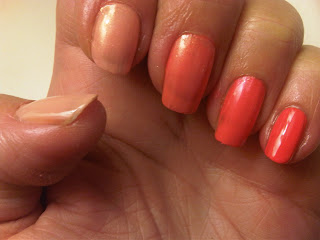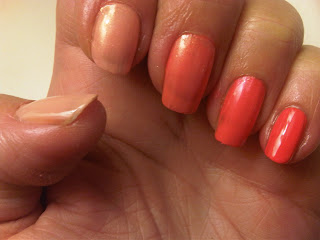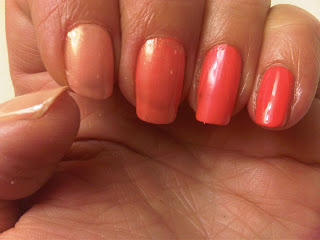 And, here's the aftermath: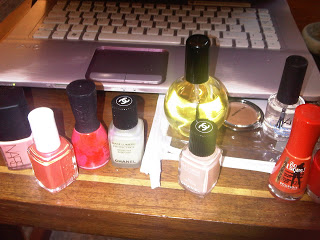 NB: Since I posted this a few people have commented on Twitter and here wondering why I didn't just add white polish to a standard colour, blend in a paint palette and graduate it that way. I'm wondering why I didn't as well! *Smacks head*

Transparency Disclosure
All products are sent to me as samples from brands and agencies unless otherwise stated. Affiliate links may be used. Posts are not affiliate driven.