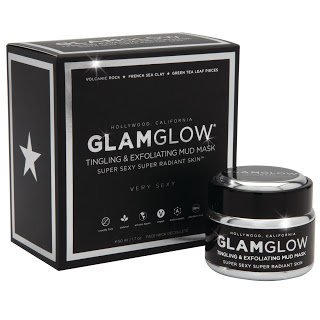 This mask has a heck of a lot to live up to if the packaging is anything to go by. It's a self-promoter of the tallest order. The writing reads: "Designed for Hollywood's Entertainment, Music, Fashion and Award Industries for camera ready soft, glowing skin." Oh, RILLY? Why does that just make me think of the porn industry? And, I might say also that it has a deceptively large box to hold such a teeny-weeny pot of mud. 


The main ingredient is volcanic pumice rock which makes it a little scratchy to apply and of course, it's very muddy – 'dredged off the coast of Southern France, home to glamourous Cannes, St. Tropez and Monace'. Geography lesson in a box..just in case we're at all confused about what major towns might lie on the coastline of the South of France. 


However, although the actual presentation of the mask, with it's shouty proclamations might be a little bit OTT, the mask itself is pretty damn good. I left it on for ten minutes, it tingled a LOT (you do end up asking yourself at what point does tingle segue into 'sting') and the grand finale is to use circular motions with a flannel soaked in warm water to remove it. The result? Very smooth, very glowing and very lovely skin. It's bang on for a fast fix when your skin looks sluggish and dull because it really does bring it to life – when I applied foundation afterwards, my skin looked positively glowing –  just like those lucky Hollywood folks in the 'entertainment' industry with their 'super sexy super radiant skin'.


The downside is that it is £50. Find it HERE
*all products are sent to me as samples from brands and agencies unless otherwise stated. Affiliate links may be used. Posts are not affiliate driven.
---
---