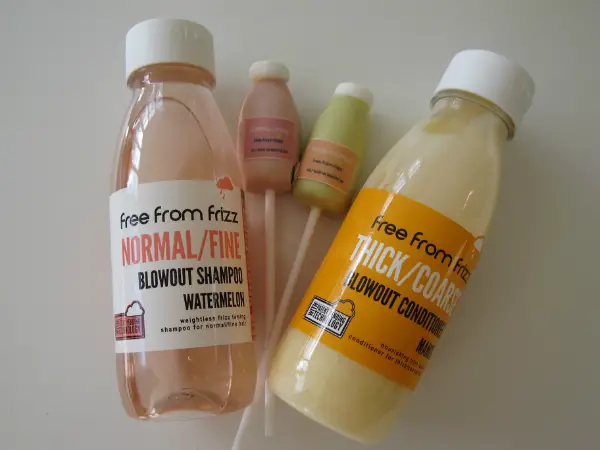 Melons and mangoes and no frizz? Sounds like the perfect combination, right? At some time or another, we've all had to battle the frizz and when you've got the UK weather to contend with it's a hard fought battle at that. Strangely, the worst frizz of my life was in California – I would wash it, dry it, straighten it and within literally minutes, it was all frizzed up again. Nothing would deal with it! I don't think I can ever go back.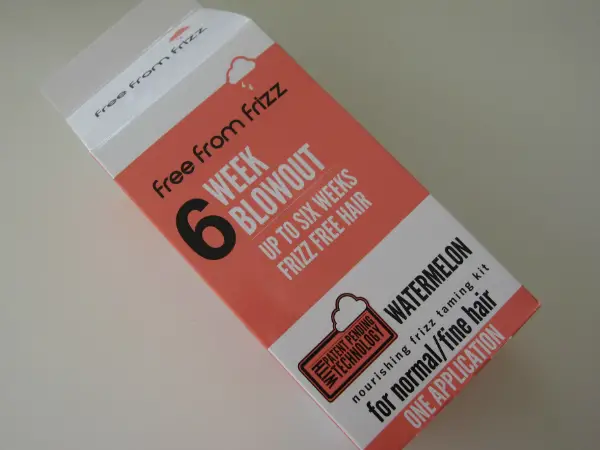 This post is to flag up the new launch of Free From Frizz 6 Week Blow Out Kit; up to six weeks of frizz free hair and fruity shampoos to go with it. Pick Mango if your hair is thick and pick Watermelon if your hair is fine.
So, what's the difference between Free From Frizz 6 Week Blow Out and other frizz banishers? Mainly, it's that the product softens the hair bonds rather than breaks them using a floraceutical blend and modified keratin. This allows the anti-frizz active ingredients to be locked in without being harsh on the hair. Think of it as a permanent conditioning treatment where hair is softened, stretched and structurally rearranged. Traditional hair relaxers often rely on alkaline reactive actives which have a very high pH. Free From Frizz uses neutral conditions with no formaldehyde or oxidative neutralisers.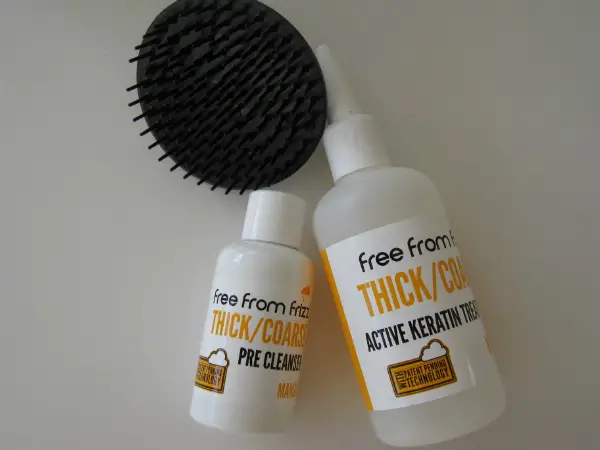 It's definitely worth flagging up that you can also use it on natural hair extensions (but they need to be in good condition). You will need to allow a good hour – it's a four step process – depending upon the length of your hair with a 30-40 minute pause in the middle to let the treatment absorb.  In fact, the Frizz Free website has suggestions for things to do while you wait, including places to shop on-line and TV series to catch up on – enablers!
In the interests of fairness, I need to let you know I'm not trialling this just yet – I had a straightening treatment recently so I wouldn't be able to give a full and fair review. However, I will give it a go in a couple of months' time. There's nothing to stop me using the shampoo and conditioners though which brings me back to the fruity bit. Mango Conditioner for dry hair is a blend of mango, pumpkin and banana (and obviously all the other shampoo components, otherwise that's pretty much just a smoothie!) and Mango Shampoo has a boost of peach and cherry. For fine hair, Watermelon Conditioner has apple extracts while Watermelon Shampoo contains melon and pear. They smell absolutely lovely.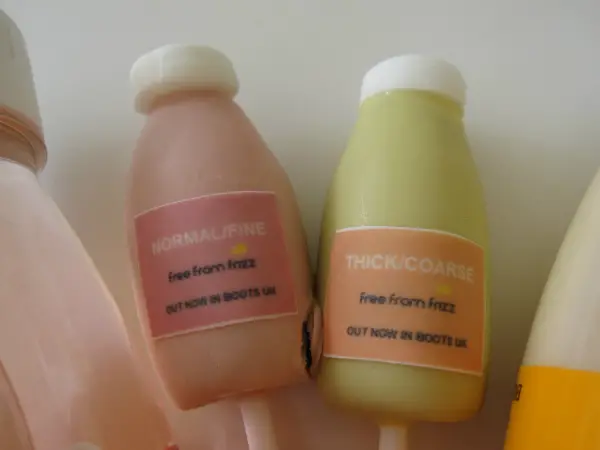 If you're wondering what floraceuticals are – as I was – it's a clever way of describing fruit and veg for your hair – the extracts are a good source of vitamin or pro-vitamin A, B, C & E, organic acids and antioxidants, which are all good for hair and scalp.
Finally, the need-to-know: The Free From Frizz 6 Week Blow Out Kit has launched at Boots HERE. It costs £14.99, and top up shampoos and conditioners are £5.99 each. Oh, and you'll need to own a pair of straighteners – it's the final step of the process and you won't be able to use the system unless you have them.
*Sponsored Post
Transparency Disclosure
All products are sent to me as samples from brands and agencies unless otherwise stated. Affiliate links may be used. Posts are not affiliate driven.