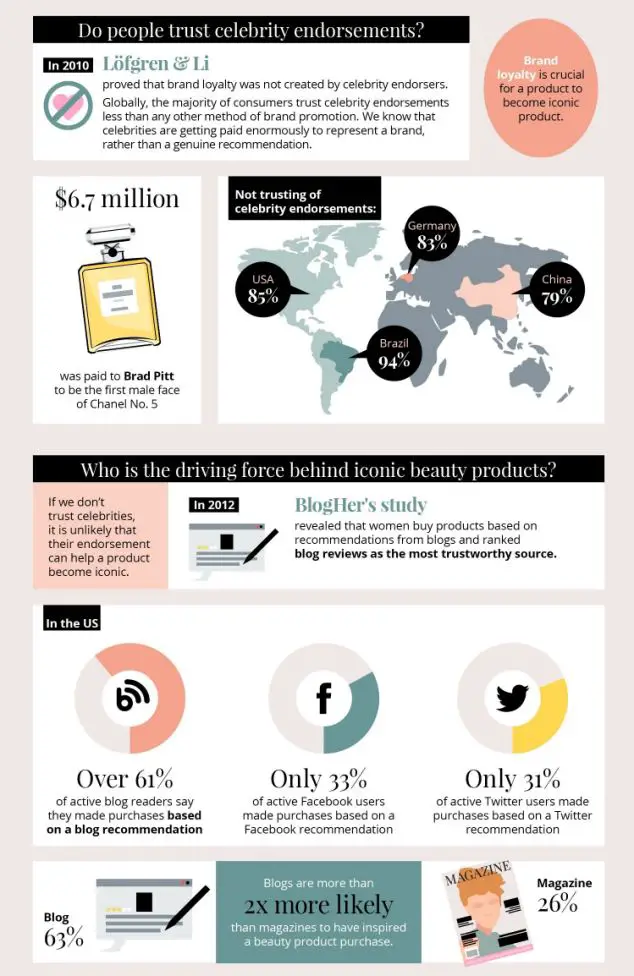 FeelUnique.com recently commissioned an infographic based on studies around how and why women buy their beauty products. I think it tells us what's been staring us in the face (and certainly if you follow the beauty industry, it's been blaringly obvious for years) – that women don't trust celebrity beauty endorsements. They trust other women!
At the same time, L'Oreal has put in place a manifesto to include using more 'real' women rather than celebrities – along the same lines as Dove. They've got a cringey video to ram home the point that it's #beautyforall. I could nearly cry for them at how wrong they've got it – two minutes of really, really slim and beautiful women (okay, there is some multi-ethnicity in the mix) and a few ruggedly handsome and buff men, and literally 2 seconds of an older couple. It's so mind blowingly removed from the very thing they're trying to portray. They just can't quite brave the thought that real women are not always 'classically' beautiful, don't spend their lives running in white gauzy clothes across beaches or regularly stare wistfully at sunsets through a well-mascara'd eye. It's HERE.
And yet, real women WORK at L'Oreal. You know, the ones like us, with shadows under our eyes, a spot or two, a few extra pounds where we don't really want them, and dreadfully frizzy hair when it rains. It's not like there isn't any real woman reference to draw from even if the creatives never set foot outside the doors of L'Oreal. Pretend real women isn't the same as actual real women.
The FeelUnique infographic also picked up on something that is a personal interest of mine – the emotional connection that women have with brands and products. It's crucial. Bloggers instinctively know how to connect emotionally – because they're, er, real women, really using the products and really loving or loathing them. They're the embodiment of emotional connections with beauty.
85% of American women don't trust celebrity endorsements. That's a lot. Ads using celebrities find them only 2% more enjoyable than those that don't. Tell that to Chanel and the $6.5 they paid Brad Pitt to be the first male face of Chanel No.5. It's maybe something to note that if you are super-successful as a blogger or YouTuber these kind of stats are a warning to keep it very real and not tip over into the current perception of celebrity. Maybe.
61% of blog readers have bought on recommendation (as opposed to 33% of Facebook users and 31% of Twitter users). And here's us, not skipping skinnily across a sand dune but still taking the lions share in influencing the world of beauty and economy. For the record, according to the infographic, blogs are x2 more likely to have influenced a beauty purchase than magazines. And there are a hell of a lot more blog views than there are magazine readers.
If you ever have a moment's hesitation that your blog isn't part of something very special or that what you're doing isn't being noticed, check over those stats again, have a little giggle at the #beautyforall campaign and realise that as a real woman (or man) you're holding the world of beauty in your hands.
Transparency Disclosure
All products are sent to me as samples from brands and agencies unless otherwise stated. Affiliate links may be used. Posts are not affiliate driven.