Clinique Age Defense BB Cream SPF30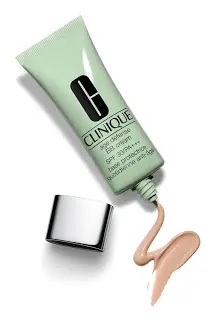 Clinque Age Defense BB Cream SPF30
Oh no! I really didn't get along with this BB at all. I think this is the ultimate Marmite BB!
Ok, so what I found with the texture is that it is so thick, and my coverage preference is always light. I found it really took some working into the skin, a bit like a high SPF sun lotion and after I'd applied it my skin felt, what I can only describe as, waterproofed. A little bit waxy, even. The colour, in Shade 02, was too pale for my skin and to be honest, I turned a teeny bit grey with it. On the skin, this BB leans heavily to matte, and I always like to be dewy, so all in all it is just not for me and I took it off almost straight away.
However, listening to the view of my beauty friend Louise at www.the-beauty-pages.com whose opinion I value, it's the opposite experience for her. She loves the matte finish and found the Clinique BB to be long-lasting too, which is always a bonus. Anything with a dewy finish tends to disappear. Others I've spoken to have also praised its coverage and perfect shades. To be fair, one of the main sells on this cream is that it gives oil and shine control and helps to balance the skin so maybe it's a salvation for oily skin. It's also got a hefty whack of sunscreens built in (and it feels like it too) as well as Vitamin E, caffeine and a whole host of anti-irritants. It's also good for brightening and enhancing but it had the direct opposite effect on my skin which looked like I'd risen from the grave.
This is like olives for me… I really, really want to like them because they look so delicious and stylish but no matter how hard I try, everytime I put one in my mouth I want to spit!  I really hope that Clinique are doing some heavy sampling with this, because it's a try before you buy.
 
*all products are sent to me as samples from brands and agencies unless otherwise stated. Affiliate links may be used. Posts are not affiliate driven.
---
---